Our Team
Temeku Equine, Inc. Staff
We cannot wait to meet you and your beloved horses and want to ensure that they live a happy and healthy life. Please take a moment to read our staff bios and get to know our team, and do not hesitate to contact Dr. Huth, Dr. Rosenberg or any of our staff if you have any questions regarding your horses or livestock.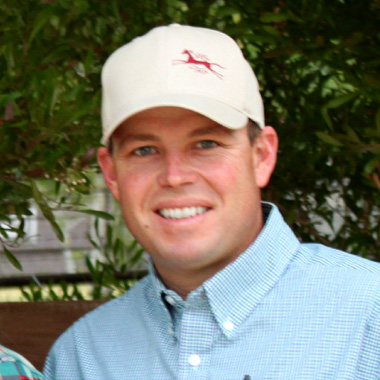 Chris J. Huth
DVM
Dr. Huth was born and raised in Poway, California. He was very involved in 4-H and FFA while growing up. He showed steers and hogs at the Del Mar Fair for over 10 years. After graduating from Poway High School, he attended Fresno State. During his time at Fresno State, he was responsible for the breeding program at the Quarter Horse Unit. Dr. Huth graduated with the Dean's medalist award for the College of Agricultural Sciences and Technology.
Dr. Huth graduated from Colorado State University's Professional Veterinary Medical Program. During school, Dr. Huth worked in the Fort Collins Bio-Security Laboratory on a variety of research studies including horses, alpacas, and alligators. Most of the work he did was with the West Nile Virus. Dr. Huth received the Outstanding Large Animal Surgery Award when he finished veterinary school. Although he had a large animal emphasis during vet school, he spent his first year working in a mixed animal hospital in Pagosa Springs, Colorado. The variety of animals he worked on was entertaining, but he really missed working with large animals.
Dr. Huth is extremely proud of the practice Temeku Equine has become. He credits his excellent team and supportive family for making it run smoothly.
Dr. Huth is married to Becca; they have three young daughters named Abby, Jocelyn, and Paige.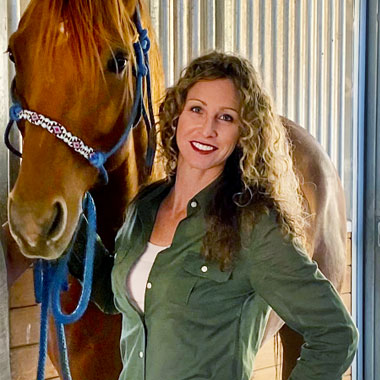 Jennifer Rosenberg
DVM, Certified in Animal Chiropractic
Dr. Rosenberg grew up in Rancho Bernardo. She has been involved with horses all her life, competing in many rodeo associations including California Junior Rodeo Association, California High School Rodeo Association, National Intercollegiate Rodeo Association, Women's Professional Rodeo Association. Dr. Rosenberg qualified for the National competition in barrel racing at both the high school and college level and attained professional status in the WPRA in her rookie year. Along with her successes in barrel racing, she is a talented breakaway and team roper.
Dr. Rosenberg attended Cal Poly San Luis Obispo on a rodeo team scholarship and graduated with a Bachelor's degree in Animal Science and an AG business minor. After graduation at Cal Poly, Dr. Rosenberg headed to Texas A&M, in College Station, TX where she had been accepted to a Master's Degree program in Animal Science. During her time at Texas A&M, Dr. Rosenberg was a teaching assistant in equine training, equine production management and taught the Mounted Cavalry riding and training skills. After attaining her Masters, Dr. Rosenberg attended Veterinary School at Ross University School of Veterinary Medicine. She was awarded her Doctor of Veterinary Medicine degree after completing her scholastic training on the Ross University campus and the clinical year portion back at Texas A&M University.
Dr. Rosenberg has interest and experience working in the sports medicine field. She previously worked at Equine Sports Medicine and Surgery in Texas and has traveled to several racetrack meets as the track veterinarian. She is licensed by the veterinary board of California as well as the veterinary & racing commission boards in Texas, Minnesota, and Iowa. She is also certified in Animal Chiropractic by IVCA. As a self-proclaimed "Cali girl", Dr. Rosenberg is happy to return to her California roots and to join the community of Temecula and the Temeku Equine team.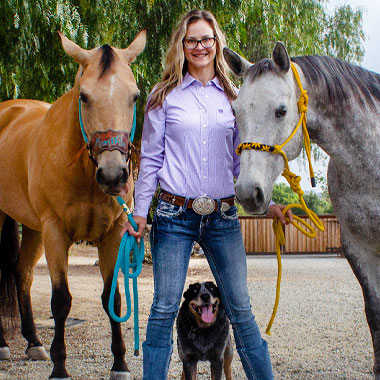 Jenna Virden
Registered Veterinary Technician
Jenna was born and raised in Southern California. She is an ultrasound certified RVT that spent 7 years as a small animal tech before moving over to large animal. She has owned horses most of her life and has always loved them. She loves to ride and barrel races locally and with WPRA. Having been a long time client at Temeku Equine she decided to officially join the work family.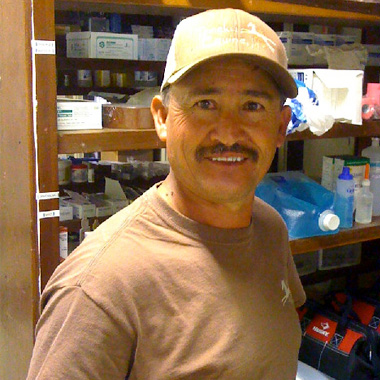 Rafael Gomez
Veterinary Assistant
Rafael was born and raised in Jalisco, Mexico. Soon after coming to the USA, he began working for Dr. Will Ommert of Los Caballos Veterinary Hospital. Rafael was Dr. Ommert's right-hand man for many years. During his 30 years of employment at this facility, Rafael has worked with over 10 different veterinarians. Over the years, Rafael has developed a sixth sense for working with horses, livestock and other large animals.
Rafael has raised his family here. He and his wife, Lorena, have one daughter, two sons, and a granddaughter. Verenice is a veterinary assistant at a small animal clinic in Temecula, Gus works locally, and David works for US Border Patrol.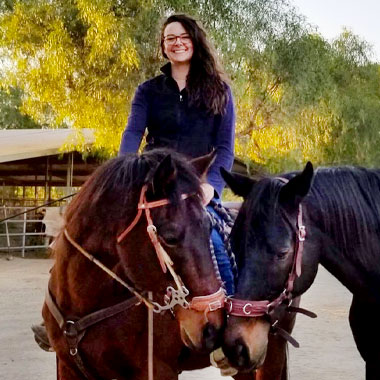 Makayla J. Hanson
Veterinary Assistant
Makayla was born and raised in Southern California and has lived in Temecula for many years. She and her husband own two off-the-track thoroughbreds that are boarded in wine country Temecula, where they trail ride often. She used to jump her horses and ride western disciplines, but now rides whatever style the horses want to do for the day. She has taken great pride and joy in taking care of animals and loves serving the equine community at Temeku Equine with the doctors and her co-workers.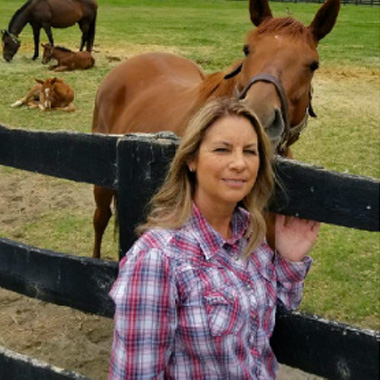 Jan D'Amato
Office Staff
Born in Long Beach, Ca, Jan learned to ride horses as a young girl. Raising 3 children Orange County, she postponed owning horses until they grew older. Always a fan of Thoroughbred Racing, Jan immersed herself in the industry. She has spent time working the backside of the track, breeding thoroughbreds and racing these amazing animals.
If you have an emergency, please call Dr. Huth at 951-595-5767 or Dr. Rosenberg at 951-595-3938.